Best route guide to plan a trip for Annavaram
Are you planning to visit Annavaram? But you are confused to choose the way how to go? Then is a guide to choose the best way for your trip. Basically, Annavaram is located on the NH5 connecting Chennai and Howrah in the Andhra Pradesh state which is famous for Sree Veera Venkata Satyanarayana Swamy temple on a hillock.
By Rail:
Annavaram is well joined by both rail and roadways. It's 3 km from A.V.M Railway Station, the trains from Vijayawada–Visakhapatnam Line of the Southern Railway, from Madras to Calcutta. Most of the trains moving between Kolkatta – Vijayawada line will stop at Annavaram Station
By Road:
NH-5 Road passes via Annavaram. Daily bus service is available from all nearby towns.
By Bus:
A.P.S.R.T.C Buses are driven every Half An Hour from Annavaram to Rajahmundry and Visakhapatnam and vice versa. There are many buses from Hyderabad, Vijayawada, Tirupati, Kakinada cities. Every 15 minutes, buses will be available to places like Tuni, Kakinada via Annavaram and surroundings Villages.
By Flight:
The flights will be available from Vishakapatnam. The distance between Vishakapatnam airport to Annvaram will be 95 km.
The Environment-friendly horse carts can be used to go around the town. Autorickshaws and taxis are also available along with city buses and buses moved by temple management.
Timings of Annvaram Temple:
Once you reach Annavaram you want to know about the timings of the temple. Here is the image for the timing of the temple.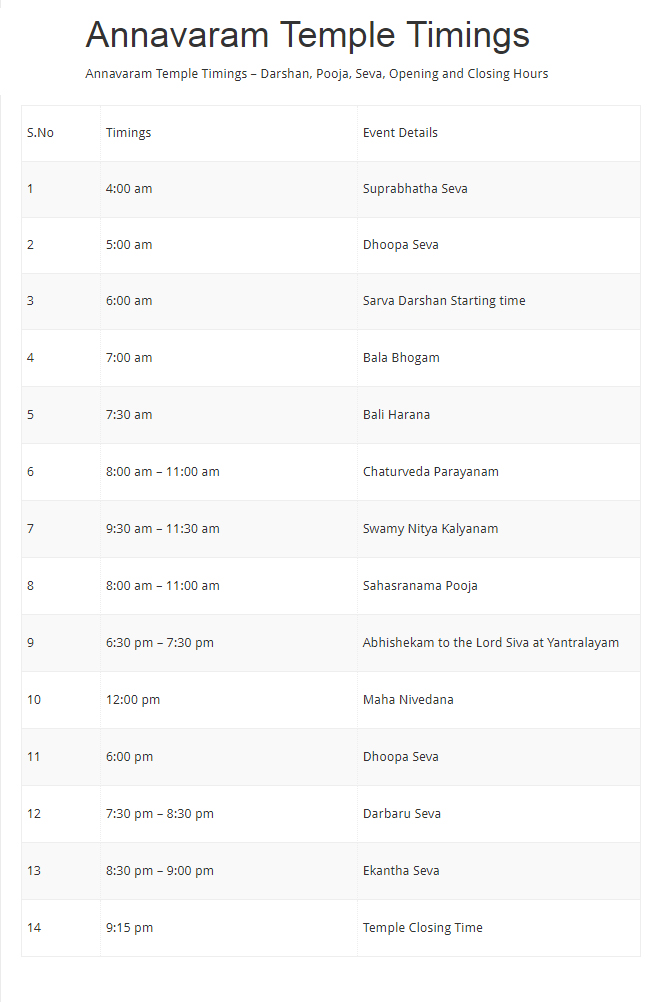 The above-mentioned timings will be applied on all days except on festival and other important days. At the festival Timings and Peak Seasons temples open at 2:30 am and Nitya Kalyanam starts from 2:30 am. Temple closing hours will also vary during peak hours to accommodate all devotees.
Hotel to stay in Annavaram:
Once you are done with the route map and the timings here comes the next big issue where to stay? Yes, the best Annavaram Hotel to stay is Satyadeva Residency which is the best place for staying at affordable prices and also pre-booking available with great customer service.